The Burlington Public Library
by providing free access to diverse resources,
strives to link all members of the community
with the spirit and power of ideas.
We believe…
in serving the informational, recreational, and educational needs of our community, linking its citizens with the power of words, knowledge, and ideas.
free access to information for all citizens is crucial in maintaining a democratic society.
access to and use of knowledge improves life.
a library is more than a collection of books and information; it houses the spirit of people's imagination and creativity.
in the value of a diverse collection of resources, in both content (multicultural, multigenerational, and gender-fair) and format (book, magazine, video, audio).
learning is life-long; the library provides a positive learning environment for people of all ages.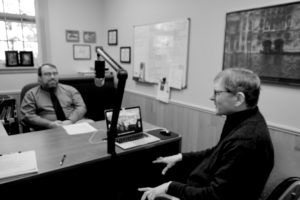 Library Director Joe Davies (left).
Listen now to a podcast with Library Director Joe Davies. http://podcast.celebratelibraries.com
Please click supporter links for more information.
Clinical Psychology Associates